---------- Forwarded message ----------
From:
PVCHR Communication
<cfr.pvchr@gmail.com>
Date: Fri, Dec 20, 2013 at 12:36 PM
Subject: Ground report from Muzaffarnagar: Cruel winter in camp of no hope
To: covdnhrc <covdnhrc@nic.in>, jrlawnhrc <jrlawnhrc@hub.nic.in>
Cc: "Dr. Lenin Raghuvanshi" <lenin@pvchr.asia>

To,
The Chairperson
National Human Rights Commission
New Delhi
Dear Sir,
Therefore it is a request please take appropriate action at earliest.
Thanking You
Sincerely Yours
Lenin Raghuvanshi
Secretary General
Ground report from Muzaffarnagar: Cruel winter in camp of no hope
Avijit Ghosh & Rakhi Chakrabarty,TNN

|

Dec 20, 2013, 05.46 AM IST
Days after Akhilesh Yadav urged the media "to go and assess... at the ground level yourself", TOI visited a relief camp for the Muzaffarnagar riot-hit and found the conditions as wretched as before SC's rap to the UP govt for the dismal conditions
LOI (Muzaffarnagar): Life is cheap at the riot victims' camp here. In the past weeks, 11 children have died here; 74 pregnant women, 24 in advanced stages, battle malnutrition and skin disease; children amble barefoot in the cold, some not even in woollens; 85 girls have been married off as their parents thought it was the best way to save honour.
At the camp, 40km from Muzaffarnagar town, men uprooted leaving behind burnt homes, lost livelihoods, face a bleak future, especially those ineligible for the Rs 5-lakh UP government compensation. When Momina Khatoom, 34, from Phugana who had a miscarriage fleeing the rioters, asks: "Doesn't that make me eligible for compensation," nobody has answers. Nearly four months after riots struck this western UP district in August-September leaving at least 50 dead, the victims remain trapped between administrative lethargy and a cruel winter.
Camp inmates say last week's SC directive has nudged the district machinery to show some urgency. Still, for the 480 families — 3,600 men, women and children — it will be a long, bitter winter. They leave one wondering about the state of other camps across Muzaffarnagar and Shamli districts.
Here's why the cold is a killer. This Jan 2, Muzaffarnagar recorded a biting 0.6 celsius. The Loi camp, roughly the size of half a football field, is pitched under the open sky next to a canal and sugarcane fields. The tents hardly keep out the chill. When the temperature dips, dewdrops leak through the canvas and fall on people sleeping below. "Cold and hungry, children cry all night," says Hanifa Begum.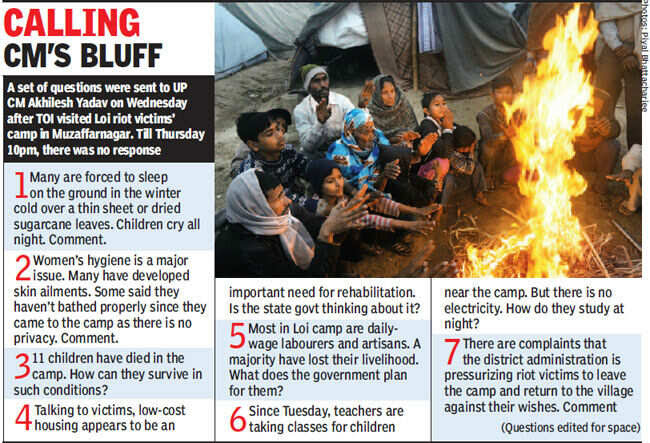 Armaan,3, wears only a cotton shirt and clings to a puppy for warmth. Most sleep on the floor with a sheet or dry sugarcane leaves for a mattress. "Bonfires provide some respite. But the kids are soon cold and crying again," says Gulfam Saifi, a 29-year-old blacksmith from Kharar village. It isn't just the cold that makes the babies cry. "Many ill-nourished mothers find it hard to breastfeed," says Shahnaz. On Tuesday, the heavily pregnant were given a tin of Protinex each. Dr Anuj Rajvanshi, who keeps visiting the camp, warns: "This isn't a safe place for newborns."
It's no place for grown-ups either. Some women say they haven't had a proper bath in weeks due to lack of privacy. Before the riots, most men here worked as either daily-wagers or house helps for their Jat landlords. Others were blacksmiths, carpenters, masons, grocers. Those jobs are gone. Ever since he came to the camp, Umar Din Saifi has earned nothing. He had a thriving grocery and a carpenter's job at Kharar. On September 8, rioters burnt his house and looted his shop.
Most of those at the camp come from Phugana and Kharar. Munish Kumar Sharma, Burhana SDM, says of the 273 sheltered families from Phugana, 173 were eligible to receive Rs 5 lakh each. Despite receiving money, 125 such families continue to stay, he says. The amount was disbursed on the basis of a chulha (cooking oven) survey in homes — one chulha accounting for one claimant. But Abdul Jabbar, a former Loi pradhan, says, "Some got it only partially."
Camp inmates insist the government survey ignored genuine claimants. A second survey was conducted by a committee of 10 formed by the villagers, Sharma informs. Of the 75 names they suggested, 29 were valid. But many say several are still left out. District officials, including Sharma and tehsildar Satish Kumar Kushwaha, admit confusion over identifying "genuine" victims has stalled cheque disbursement.
Kharar riot victims are yet to receive relief. "We fled with our lives, but were not even counted among those eligible for compensation," says Umar Din. District officials say at least 135 Kharar families are at the Loi camp, none of them has received compensation. Sharma informs: "Some of them returned to Kharar but came back after the relief was announced."
Camp dwellers say they fear for their lives and would rather die at Loi, a Muslim-majority village. Mohammed Waqilu of Phugana says he returned home once. "Not a single door is left. Soon, they will even take the bricks away. It's impossible to return when rioters still roam free. They threaten us. In buses, they pull our beards, snatch our topis," he says.
Mohammad Akhtar, a 43-yearold mason from Kharar, has four sons and two daughters. "We won't return because we fear for our daughters' honour," he says. Tears well up in the eyes of Mohammad Shameem, 65,from the same village. "I saved 98 tolas of silver, 3.5 tolas of gold and Rs 55,063 for my daughter's wedding. I've lost everything," he says. He too hasn't received anything.
As sunlight fades, passageways between tents turn into open kitchens. The aroma of spice mingles with goat shit stink. Kids play with dogs. Men and children huddle around bonfires. "The fire is weak. It isn't easy to cook," Shafiqan complains. Tough rotis, sometimes eaten with pickle, form the staple food. On special days an NGO or Loi villagers bring vegetables or meat.
Since Tuesday, government teachers have started teaching kids. But no electricity means they can' study at night. In the dusk, Heena Saifi sits with three other children reading Hindi writer Siyaram Sharan Gupta's short story, Kaki. She is in Class VIII. As one talks to her, a man emerges from a tent and asks:"Should the government not give scholarship to the meritorious among them and put them in good schools?" It is a simple question. But who is answering?
Good Samaritans pitch in with help
On Tuesday, Father Abhishek Sahay of Believer's Church, Lucknow, brought cheer to the camp ferrying a truckload of 600 blankets and 50 quilts. Taranjit Singh, a Sikh from Rampur, came with Muslim friends and 100 quilts and 100 mattresses. "We spent Rs 5 lakh from the church's fund to buy these," Sahay said. "There's a huge need for woollens... We'll return with more," Singh added. Camp inmates said they're depending mostly on the village committee's help. The first doctor to fetch up was from Jamaat's Kerala unit, said ex-pradhan Abdul Jabbar. The camp had stickers — saying 'Muzaffarnagar Relief Works' — of controversial grouping of Muslim outfits Popular Front of India. The government gave away 310 blankets.